High End Putters for Gifts, Outings or for Your Individual Game
LEARN MORE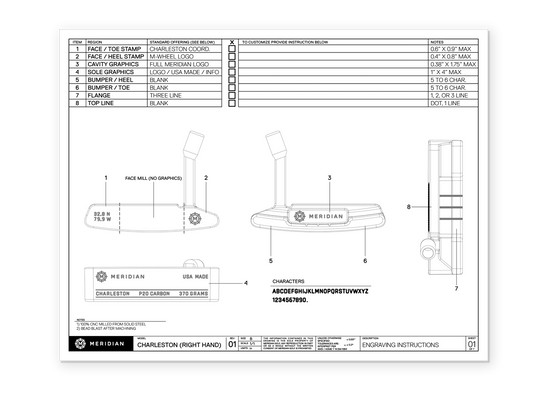 Design Options
Interested in seeing exactly how you can personalize your putter? Download the pdf to see how you can customize our family of putters.
Download PDF
Tell us about your custom putter, we also do bulk custom orders for outings, invitationals, corporate gifts and more!
At Meridian we understand that for some, golf is more than just a game. We are happy to make putters as unique as your game. Whether it be a custom color, engraving, a custom finish, or just "something different," we are excited to help. Each custom putter will be hand crafted to your individual specifications.

Along with one off putters for individuals we also have the capabilities to do bulk custom orders for events, invitationals, corporate gifts and more!

Please fill out the contact form below and one of our representatives will contact you shortly to get started on the putter you've always wanted.

*Pricing and lead times for custom putters will vary depending on complexity and demand.